Back Home Again
Over the last two weeks I have been in five different time zones in four different countries. I transited through London Heathrow's post Terminal 5 three times over one week and succeeded at only buying chocolate, chai, snacks and a small bottle of perfume. People usually ask me how I deal with all the traveling. While I do love to travel, the thing that keeps me going isn't really a strong desire to check out suburban California (where I am right no, in Chino teaching for the weekend). Instead I love teaching yoga and sharing the inspirational message of this path with students all over the world. I am grateful to each student who takes time out of their life to join my classes.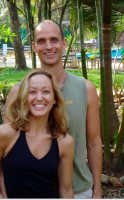 After five weeks of dedicated practice in Mysore, India at the K. Pattabhi Jois Ashtanga Yoga Institute I was ready to join my husband at beautiful Purple Valley in Goa to teach our two week yoga retreat. We were honored to have around 60 students from all over the world at what really felt like yoga paradise. Goa is an amazing way to experience India complete with cows, water buffalo, street dogs, chai, markets, power cuts and geckos crawling on the wall. The food at Purple Valley is amazing, the setting lush and tropical, the pool is magically cool and refreshing and the staff absolutely wonderful. In fact we loved it so much that we made plans to return January 22 – February 2, 2012. Complete details will be on www.yogagoa.com soon. Retreats are a great way to recharge, reconnect and return with a dose of inspiration. We will also be teaching a two yoga week retreat April 15 – April 27 at a stunning beach front world class center in Koh Samui in 2012. Complete details will be on www.yoga-thailand.com soon too! Join us if you can because we would love to see you there!
Now I'm ready to spend the next year traveling and teaching while being based in the beautiful sunny state of Florida. I'll be teaching at Miami Life Center for selected dates as well as during our One Week Yoga Workshops and Two Week Ashtanga Courses. I'm attaching my Miami teaching schedule here in case you're planning on traveling through Florida and want to catch me in a Mysore class.