Beetroot and Ginger Soup
Theresa and Adam asked me to share a favorite recipe for their Kitchen Yogi Blog. You can check out their blog HERE. I enjoyed so much so that I'm sharing it here too!
I love really good soups and when I found this book called Love Soup by Anna Thomas who wrote the Vegetarian Epicure I was really excited. This recipe for Beetroot Soup with Ginger brings all the unique flavor out of beets and enhances their earthy, slightly sweet flavor. The color is so beautiful that you can use it for a holiday soup or just for a splash of excitement. I made this soup for Christmas Eve dinner at my parents house and everyone, even the meat eaters, were really impressed with the taste, texture and richness of it. I like to serve it warm with crackers or a slice of fresh bread.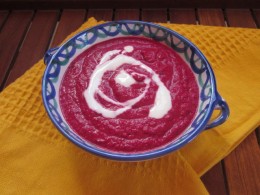 Beetroot Soup with Ginger from Love Soup by Anna Thomas
5-6 Raw Beetroots – peeled and diced
1 Fennel Bulb
2 Parsnips – diced
1/2 Celery stick – diced
Leeks – sliced, white part
Fresh Ginger
Marjoram, finely chopped
Dill, finely chopped
Bay Leaf
Sea Salt & White Pepper, to taste
Vegetable Stock
1 lemon
150 ml Natural Yoghurt or cream fraiche
Bring everything to a boil and cook until the veggies are tender.
Let it cool slightly and puree using an immersion blender or in batches.
Then add the lemon juice, salt and pepper and stir well.
Serve warm and add a dollup of yoghurt or cream fraiche in the center.