Raw Chocolate Mousse
Theresa and Adam asked me for another favorite recipe, so I shared this "healthy" chocolate Mousse! You can check out their blog HERE.
Raw Chocolate Mousse (6-8 servings)
I love chocolate and this vegan recipe tastes so good you will never miss the eggs. The first time I tried it was at a party where a raw chef used the recipe to make icing for a raw cake. I could not believe how velvety the chocolate was without the use of the usual butter, eggs and cream.
Preparing a raw cake is more involved than I usually want to deal with on a daily basis, so I figured out that I could just make the icing into a rich mouse. I added nut butter to give the mouse an even richer taste. Anyhow the icing is always my favorite part of the cake so why not?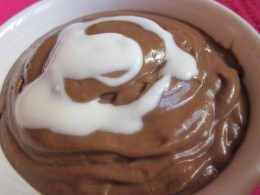 4 Ripe Organic Avocados
1 Cup of Sweetener (Agave Nectar or Honey)
1 Tbls of Pure Vanilla Extract
1 Cup of Organic Fair Trade Cocoa Powder
4 Tablespoons of Almond or Cashew Butter
Raspberries, Strawberries or Blueberries
Mix all ingredients except the berries in a blender until smooth. Add more sweetener, chocolate or almond butter, depending on your taste. Make sure the consistency is smooth and rich. Pour into individual serving bowls and garnish with berries as desired. Serve hot or chilled.